Buying Alone, as a Couple or Through a Business
Portrait of 2017 - Province of Quebec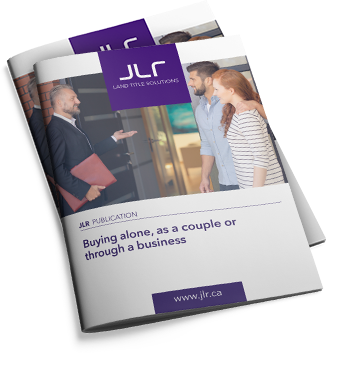 ABOUT THIS PUBLICATION
Most of the time, JLR is interested in the analysis of prices and sales in the real estate market in Québec. However, in this publication, it's the profile of property buyers that was analyzed. Thus, find out the proportion of acquisition made by a single person, several individuals or through a business.
The data presented in this publication comes from the Quebec Land Register.
Fill out this form
to recieve the document by email
58,1%
of condos sold were bought by a single person
60,5%
of single-family homes were purchased by 2 people or more
37,5%
of buyers of duplex or triplex were single people
23,6%
of 4 to 11-unit buyers were businesses
Why Download This Publication
To be informed on the Quebec real estate market trends
To convey the right information to your customers.
To help you make the right decisions.
To get accurate, complete and reliable data.
Get the publication