Holding Period of a Property in Quebec
September 2018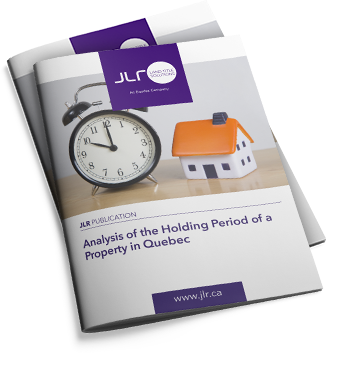 ABOUT THIS PUBLICATION
During a life, some owners will live in many properties and others will stay in the same house for several years. But what is the average holding time of a house or condominium in Quebec? In this publication, discover what the median holding period for a single-family home and a condominium is for a household in Quebec. By analyzing the holding period of people who sold their property between 2015 and 2017, JLR was able to establish the moment where 50% of buyers in 2018 will have resold their property..
The data is obtained from the records compiled by JLR from the Quebec Land Register.
Fill out this form
to recieve the document by email
OVER 50%
of buyers will have sold their house in the first 12 years after the purchase
9 YEARS
MEDIAN HOLDING PERIOD OF CONDOMINIUMS
7%
possibility of reselling after 5 years of house ownerships
16 years
Longest median holding period for a region
Why Download This Publication
To be informed on the Quebec real estate market trends
To convey the right information to your customers.
To help you make the right decisions.
To get accurate, complete and reliable data.
Get the publication