Report on Legal Hypothecs In Quebec
Portrait of 2019 and 2020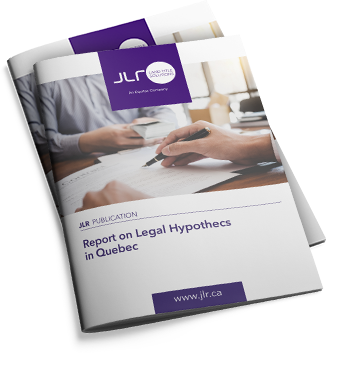 ABOUT THIS PUBLICATION
In this report, take a look at the number of legal hypothecs that were published in the Quebec Land Register according to types, their evolution compared to previous years and the impacts of the pandemic on these types of notices. Learn also about the bad debts that were issued by Revenu Québec and Canada Revenue Agency.
Statistics on legal hypothecs were compiled by JLR from the Quebec Land Register.
Fill out this form
to recieve the document by email
8,682
Legal Hypothecs Issued in 2019
-3%
Drop in the number of legal hypothecs issued in 2019 compared to 2018
-61%
Drop in Legal Hypothecs issued between April and July 2020 compared to the same period in 2019
$237K
Total amount of the legal hypothecs issued by Revenu Québec and CRA in 2019
Why Download This Publication
To be informed on the Quebec real estate market trends
To convey the right information to your customers.
To help you make the right decisions.
To get accurate, complete and reliable data.
Get the publication