Median Gap Between Sale Price and the Assessement Roll
For the year 2016 in Montreal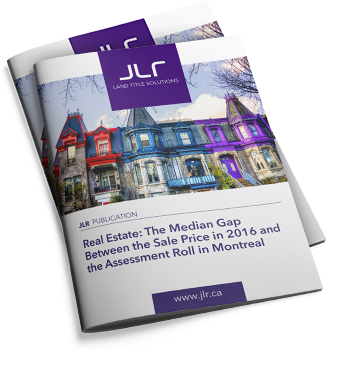 ABOUT THIS PUBLICATION
Analysis of the sale prices of properties in 2016 compared to values according to the land role of 2017-2019 for the Montreal urban agglomeration. The study also presents detailed results by boroughs and towns on the Montreal Island, in both the single-family home and the condominium markets.
The sales statistics are powered by the records compiled by JLR from the Land Register.
Fill out this form
to recieve the document by email
-1%
Gap Between the Price and the Assess. Roll of Condominiums Valued at More Than $800,000
+4%
Gap Between the Price and Roll Value of Condos in Verdun
+1%
Gap Bewteen the Price and the Roll Value of Properties in Montreal
+6%
Gap Between the Price and Assess. Roll Value of Houses In Mont-Royal
Why Download This Publication
To be informed on the Quebec real estate market trends
To convey the right information to your customers.
To help you make the right decisions.
To get accurate, complete and reliable data.
Get the publication