Mobility of Buyers Originating From the Island of Montreal
Portrait of 2016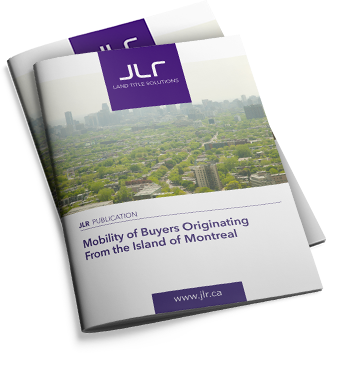 ABOUT THIS PUBLICATION
In this publication, you will discover in which area the resident of the Monteal CMA chose to buy their next property in 2016. This study specifically analyze the buyers who declared their home address on the Montreal Island and measure the median price by category of property and purchase location.
The data come from records compiled by JLR from the Quebec Land Register.
Fill out this form
to recieve the document by email
43%
of the buyers from the Montreal Island bought a property outside the region
LAVAL
is the city that welcomes the most buyers from the Montreal Agglomeration
60%
of houses bought by resident of the Island are not located in the Agglomeration
19%
of inhabitants who purchased a condo did it outside of the Montreal Island
Why Download This Publication
To be informed on the Quebec real estate market trends
To convey the right information to your customers.
To help you make the right decisions.
To get accurate, complete and reliable data.
Get the publication