Notices of Sale for Non-Payment of Property Taxes Issued in Quebec
Overview from 2014 to 2018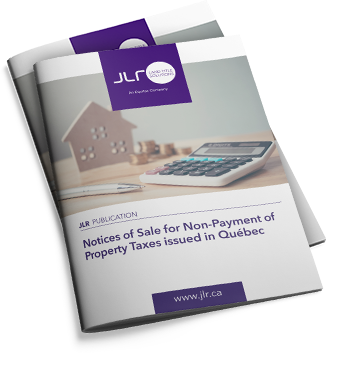 ABOUT THIS PUBLICATION
This publication presents the evolution of bad debts regarding non-payments of property taxes. The process leading to the sale of a property and a series of statistics are exposed to dress up a representative portrait of the situation in Quebec.
The statistics come from records compiled by JLR from the Quebec Land Register.
Fill out this form
to recieve the document by email
9,139
notices of sale for non-payment of property taxes issued in 2018
+15%
Increase of Notices of Sale for Unpaid Property Taxes published in 2018
36,7%
of Lands that Received a Notice of Sale Were Sold at Auction
13%
of properties that received a notice of sale were sold at auction
Why Download This Publication
To be informed on the Quebec real estate market trends
To convey the right information to your customers.
To help you make the right decisions.
To get accurate, complete and reliable data.
Get the publication