Price of Condominium per Floor
Montreal Agglomeration - January 2016 to May 2017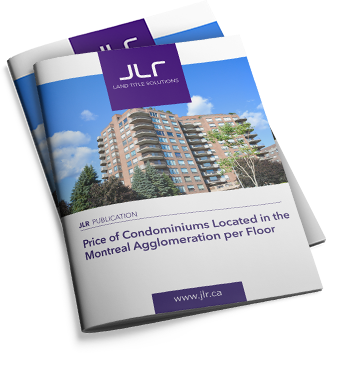 ABOUT THIS PUBLICATION
Analysis of the median price of units located in condominium towers according to the floor they are located in the Montreal agglomeration. In this study, find out how much it cost to buy a condo in a more than 10-storey tower in Montreal between
January 1, 2016, and May 31, 2017. Moreover, see the situation in the central boroughs.
The sales analyzed in this study were compiled from the Quebec Land Register.
Fill out this form
to recieve the document by email
$468,298
Median Price For Units Between the 21st and 24th Floors
+6% to +15%
Median Price Increase Per Four Storeys
$215,000
Prices for the Least Expensive Units in a Tower with over 10 floors
$364,423
Median Price of Units in Le Sud-Ouest, Verdun and Ville-Marie
Why Download This Publication
To be informed on the Quebec real estate market trends
To convey the right information to your customers.
To help you make the right decisions.
To get accurate, complete and reliable data.
Get the publication