Report on the Price of Single-Family Homes
For 100 cities in Quebec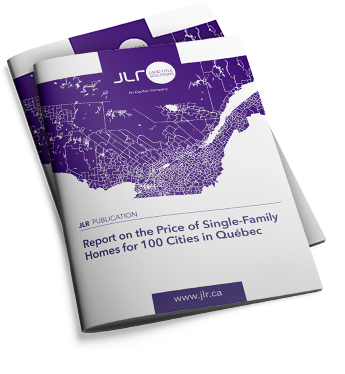 ABOUT THIS PUBLICATION
This report presents the 2018 statistics for single-family home sales for 100 Quebec cities. Find out what were the median prices of the properties traded in these cities, their variation compared to the previous year and relative to 2008.
The sales statistics are powered by the records compiled by JLR from the Land Register.
Fill out this form
to recieve the document by email
+92%
Increase of the Median Price in Ville Mont-Royal; the highest in 10 years
WESTMOUNT
City With the Highest Median Price in 2018 ($1,660,000)
+89%
median price increase in Saint-Raymond, the 2nd highest over 10 years
$103,500
Median Price of Houses Located in Thetford-Mines in 2018
Why Download This Publication
To be informed on the Quebec real estate market trends
To convey the right information to your customers.
To help you make the right decisions.
To get accurate, complete and reliable data.
Get the publication