Proximity to a Metro Station
What Is the Added Value on the Price of Neighbouring Properties?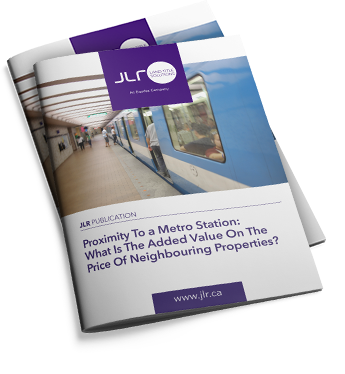 ABOUT THIS PUBLICATION
Several studies show that there is an added value on the price of residential properties located near public transportation. In this analysis, discover how proximity impacts the price of properties located less than 2 km from a metro station in the Montreal area compared to those further away.
The sale transactions were compiled by JLR from the Quebec Land Register.
Fill out this form
to recieve the document by email
+11,2%
added value for condos at less than 500M compared to those at 2000-4500M of a metro station
+7,1%
Added value for houses located at less than 500M compared to the neighbouring ones
+7,6%
added value coming from the proximity for condos between 500 to 1,000M of a station
+6%
Effect of the proximity on price of houses between 500 and 1,000M from a Metro Station
Why Download This Publication
To be informed on the Quebec real estate market trends
To convey the right information to your customers.
To help you make the right decisions.
To get accurate, complete and reliable data.
Get the publication