portrait of sales made without legal warranty
august 2017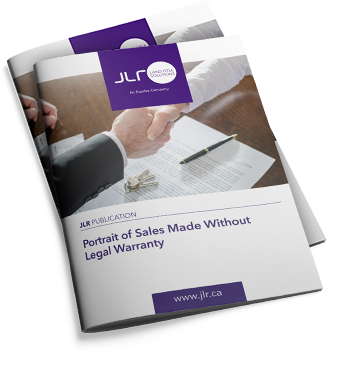 ABOUT THIS PUBLICATION
In real estate, some types of sales are more likely to be executed without legal warranty. See what characterizes the sales without legal warranty and what their proportion is for each of the sectors in the Quebec real estate market.
Sales transactions are compiled by JLR from the Quebec Land Register.
FILL THIS FORM
to receive the publication by email
20 %
of single-family homes sales are made without legale warranty
5 %
of condos sales were made without legal warranty
54%
of industrial properties were acquired without legal warrany in 2016
41%
of commercial real estate acquired without legal warranty in 2016
why download this publication?
To be informed on the Quebec real estate market trends.
To convey the right information to your customers.
To help you make the right decisions.
To get accurate, complete and reliable data.
Get the publication