Whether you wish to change your email address associated to your account, your phone number, your company name or else, you have to let us know. Here's how.
When you subscribe to JLR, we create an account and a profile for you. It is important to update your details so we can contact you, for example, to confirm a transaction by phone with a credit card, or to notify you by email when your customized reports are available for consultation, alerts, and inform you of new products and services.

1.In the left menu, select the My JLR Account tab.
2. Click on Modify my profile.
Note: You can also access your profile directly from the Dashboard.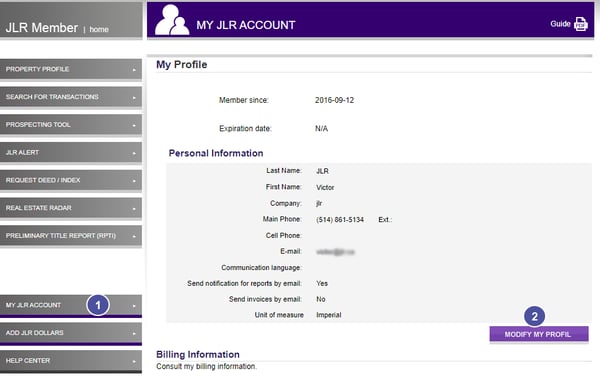 3. You can modify your name, your company name, phone number and email address.
4. Select your communication language to receive marketing email in your preferred language.
5. Check the box "I want to receive a notification by email for the reports I ordered in JLR" if you want to be notified each time your orders are ready for consultation.
6. Check the box " I want to receive by email my invoice for my monthly subscription" to get notified each month when your invoice is ready for consultation in My transactions/My purchases section.
7. Choose your preferred unit of measure: metric or imperial. By default, the metric unit measure is selected.
8. Enter your password to confirm your modifications
9. Click Save.