You want to search the real estate information for a property in Quebec. Here's how.
Option 1
You can access a property profile using the Quick Search, located at the top right of the page, once you log in your JLR account.

Here are some tips for the Quick Search.
Type the first few characters of the street, e.g. chatea, instead of chateaubriand;
Avoid : avenue, street, boulevard, etc.;
Avoid: the, of, etc.;
Write St or Ste instead of Saint or Sainte;
Always write the number as follows: 1e avenue, 3e rang (instead of 1ère, 3ième).
Option 2
1. Click on the Property Profile tab in the left menu.
2. Perform a Quick Search with the search browser that will appear.
3. If you don't know the exact address of the property you are looking for, or if you wish to specify your search, select the option ''Advanced Search''
4. 5 news search modes will then appear on your screen.
Note: Depending on your profile, you might only have access to the Advanced Search. Even if it doesn't look exactly the same, the criteria for that type of search are identical so you can still refer to this article to help you find the right property.
Address: First select the desired municipality, the borough (if applicable), the street and the suite number (if applicable).
Tips : when you're in a drop down menu, e.g. select a city, type in the first letter of the name you're searching to accelerate your search.
Street Number and Postal Code : Enter the street number and postal code.
Renovated Lot Number : Enter the lot number (e.g. 12345678).
Non-Renovated Lot Number : Select your BPD (registration division), parish, lot number and the subdivision.
Transaction number : Enter the transaction number (e.g. 1234567).
5. Once your criteria are selected, click Search.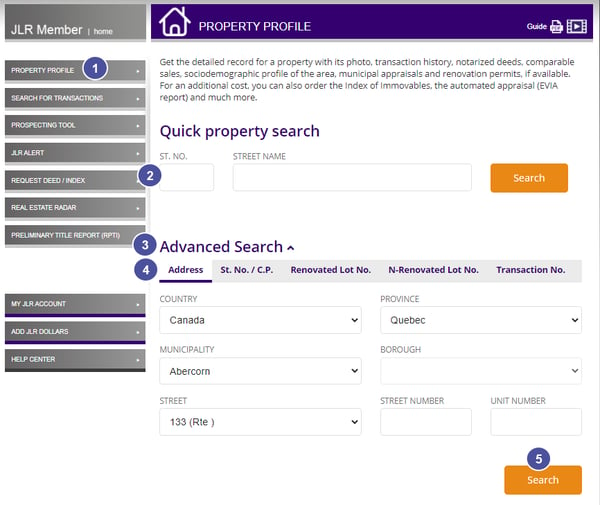 6. You will then be redirected on a result list where you will be able to see :
The costs associated with the opening of this file (if applicable)
The number of transactions related to this property
The date of the last municipal assessment
If the EVIA Report is available;
7. If the property you are looking for as a unique unit number, insert it in the box and click Filter by unit.
8. Click on the address of the property you wish to get more details on and accept the fees (if applicable) to consult all the real estate information for your chosen property.