You have ordered a did on JLR but received an email telling you it is non-existent? Here's what to do.
If a deed is non-existent, then you will receive an email telling you that our system wasn't able to find it in the Quebec Land Register. Depending on how you made your request, the steps to follow to find the right number may vary.
Here's what to do if the email was sent following an order made from '' Request Deed/Index'' tab.
1. In the email JLR sent you, validate that the number you entered is the right one.
2. If there is no mistake, try and order the Index of Immovable, using the link presented in the email. That document will allow you to verify that you had the right number for the transaction you are looking for.
3. If the Index of immovables confirms that the number you entered was correct, then contact our customer service so that one of our representative can help you find the missing document.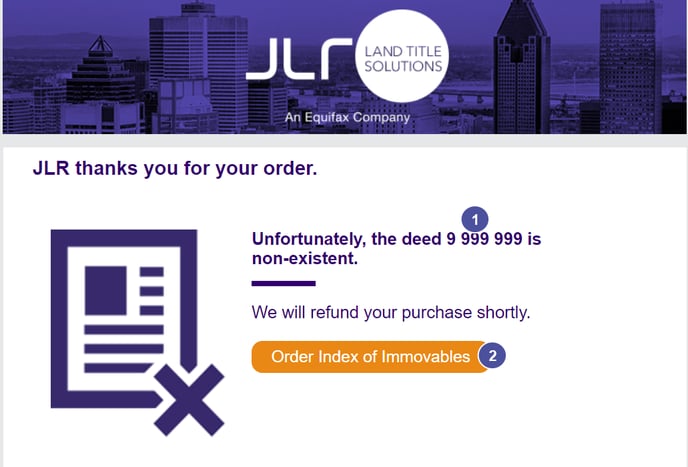 Here's what to do if you ordered your deed directly from the property profile
As you may know, you can request a deed from the Quebec Land Register directly from the property profile. When you do that type of request, JLR is the one giving you the information for the order. Therefore,if, after an order of this type you receive an e-mail saying that the deed in non-existent, you need to contact us so that our team can validate the number and give you the right one.