You want to prospect in your area but you don't know where to begin? Here's how JLR can help you reach the right potential clients!
Concentrate your marketing efforts with the Prospecting Tool of JLR. With this tool, you will obtain a list of properties that contains the criteria of your choice, like the borough of the building or its type. This tool will help you increase your market shares and it will give you the contact information about the owner of the property.
Features of Prospecting Tool
Create a list of labels for the mailings;
Obtain the information to contact the owner and link toward 411.ca;
Fees may apply depending on your JLR package
How To Use the Prospecting Tool
1. In the left menu, click Prospecting Tool. You will automatically be redirected to a search by Address. Notice that two other tabs are also available to help you have a broader search : FSA (first three characters of the postal code) and City.
If you wish to have access to all cities in Quebec, make sure that the Remove filters for my sector box is checked.
Note : earh search has to have a maximum of 1 000 properties. If your criteria are too broad, you will have to refine them. If you are unable to do so, please fill out this form and send it back to us to obtain a personalized prospecting list. Fees will apply.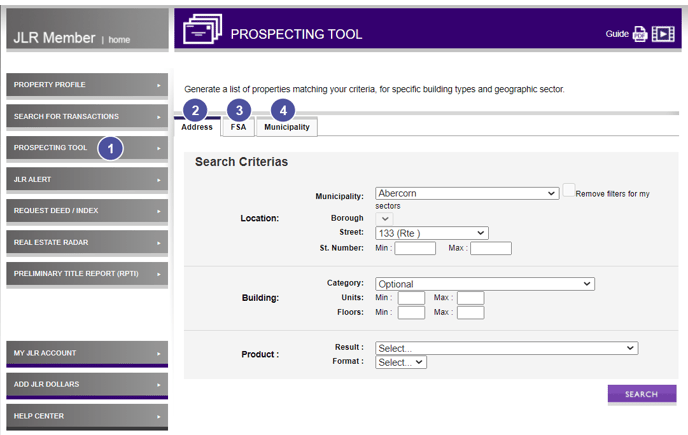 2.The search by Address allows you to target a specific street. You can also indicate which civic numbers you want to include in your list.
Tip :When using a drop-down menu, type the first few letters of the name you're searching for to accelerate your search.
3. The search by FSA ( first three characters of the postal code) allows you to target a specific area. By clicking See FSA map, you will be redirected on a map that will help you find the right FSA for your prospection.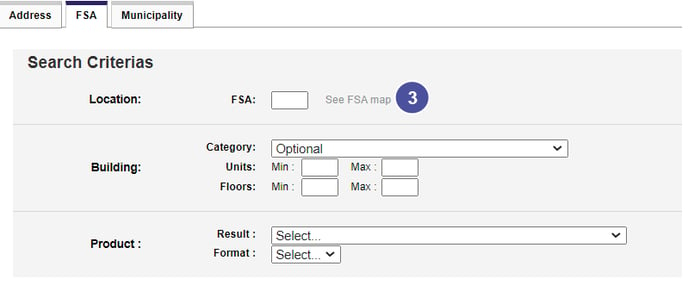 4. The search by Municipality also allows you to search by borough if needed.
5. For each type of search mentionned above, you can select a building category (Optional means all building types) as well as a number of units and number of floors.
6. You then need to choose a type of extraction to get your results:
Select Prospection list to get a file with general information on each property

With this option you will get the :

Names and addresses of owners ( and not those of the tenants), the type of property, the construction year, the number of units, the number of floors, information on the last transaction and the municipal assessment.
If you order this type of report in a PDF format, you will also get the 411 Bouton ( link to https://www.canada411.ca/). Note, however, that this list does not take into account Canada's National Do Not Call List so you can't know for sure if the owners want to be contacted or not.

Select Label List to get information about your prospects' home address.

A label list can be generated in an Excel of PDF file. For a ready-to-print label list, you should choose the PDF version. However if you want to edit the informations you have to order an Excel file.
You can also choose Combo prospection list and mailing labels to get the information in both formats.


7. Once your search criteria are all set up, click Search.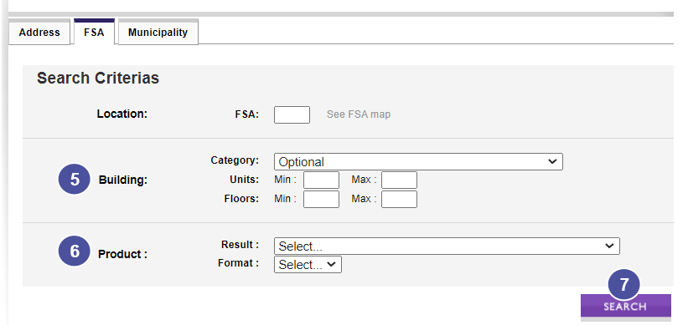 8. If applicable, accept the fees for this purchase. If you don't have any JLR dollars in your account, you will need to purchase some.
9. Your prospecting list will then instantly be generated and be available to download. A copy of your list will also be saved in the Prospecting folder of your documents.