You have heard of JLR's RPTI but you're not sure what it is nor when you should order one? Read this article to learn all about it.
The Preliminary Real Estate Title Report is a tool that allows you to obtain all the documents affecting a property while reducing your research time. With this $30 order, you will ask our paralegal team to perform the search for you.
When Should You Be Purchasing an RPTI?
What Will You Get When Ordering an RPTI?
When Should You Be Purchasing an RPTI?
Normally, an RPTI request is made when someone is looking to perform a complex research that needs many hours of research whether it's within JLR or the Quebec Land Register.
For example, it can be a search for an acquistion title of a vacant land on a part of a lot that is now renovated, or, for the search of a title for a building held in joint possession.
What Will You Get When Ordering an RPTI?
This report always includes:
Owner name(s)
The title of the acquisition like sale, transmission, cession, donation
The act of the load ( mortgage deed)
If applicable, other charges affecting the building. E.g. 60 day notices or legal hypothec.
The declaration of co-ownership
The Index of Immovables
Other relevant documents
How Can I Order One?
1. In the left menu, or in the top menu of a property profile, select Preliminary Title Report
( RPTI).
Note : if you make your request from the property profile, the following criteria will automatically be filled. You only have to include additional information if needed and proceed to the payment.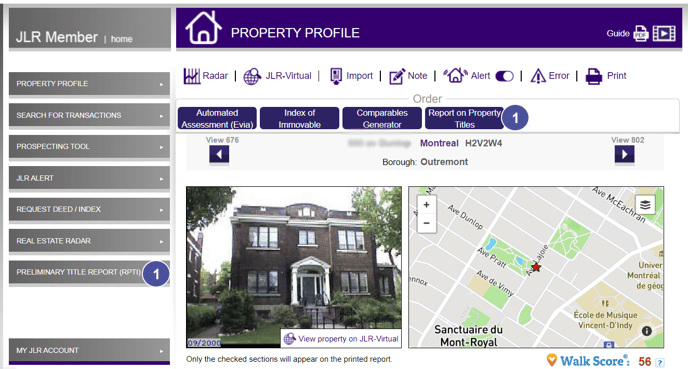 2.If you know the property address of the subject you wish to make a request for, insert it in the box and Proceed to payment.
3. If you have the renovated lot number, write in the box and Proceed to payment.
4. To make a request by unrenovated lot number, you need to fill out all the following boxes : Registration division, Cadastral Parish and Lot Number. The Secondary Designation field is optional.
5. If necessary, include additional information on your request to help our team do their research.
6. When all the fields are completed, proceed to payment.
7. Once the payment is completed, a member of our team will contact you within 24 business hours. A copy of the documents will be saved in PDF format in your Documents.