Select you search criterias
1. In your JLR account, select Search for transaction, in the left menu.
2. Select your search mode within the 8 options presented.
3. Select your municipality and borough if needed. By default the option Remove filters from my sectors is unchecked. Check the box to access all cities in Quebec.
4. Select transaction type.
5. Specify the date rage, between 1986/01/01 and today.
Tips : for real estate and mortgage brokers, a good way to find prospect is to find the transactions that occurred 5 years and 3 months ago. You will then get in hand a list of owners that are possibly looking to sell or renew their mortgage.
6. Insert the minimal and maximal amount of transactions, if needed.
7. Select building category. Optional means all categories.
8. If needed, check the boxes for lakeshore and/or new constructions.
9. If needed, insert the number of floors and/or units.
10. You can also indicate a minimal and/or maximal year of construction.
11. Click Search. It's possible that your search criteria result in no transaction or too much results. If so, review some of them or contact us for a personnalized reports (fees may apply).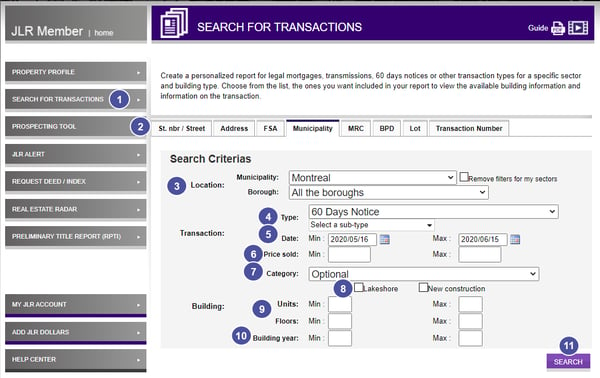 Pre-select the transactions that you're interested in
12. Once you've clicked on Search, a list of transaction corresponding to your criteria will appear, with a little bit of information to help you select the ones that correspond to your need. To modify the ascending or descending order, click on one of the titles.
13. Check the boxes of the transactions that you're interested in or check Choose all to select all transactions. Only the transaction you select will be deducted from your inclusions or charged to you.
14. Click Next when you're ready to create your PDF report.
Create your PDF Report
15. Accept the fees or deduction related to the creation of your report.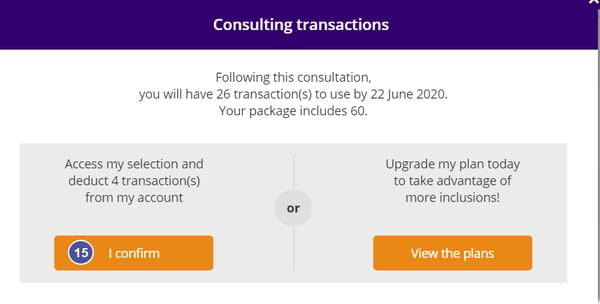 16. You will then get a list of your result, with detailed information on each property : address, number of transaction and its amount, lot number, cadastral number, buyer's name(s), seller's name(s)(Consult the notarized deed to see the names of all people involved in the transacion) .
17. Click View Map to see where your properties are located on a map.
18. Click on the notarized deed icon to open and read the deed link to the transaction. If you wish to download all deeds quickly, click Download Selected.
Note: If there is a dollar sign on the icon, this means that you will have to order the deed from the Quebec Land Register and pay 1$ to consult it.You can do this directly for the Request deed / index tab in JLR
19. Check the boxes of the transactions you wish to include in your PDF report.
20. When you are ready, click Create Report to generate your PDF.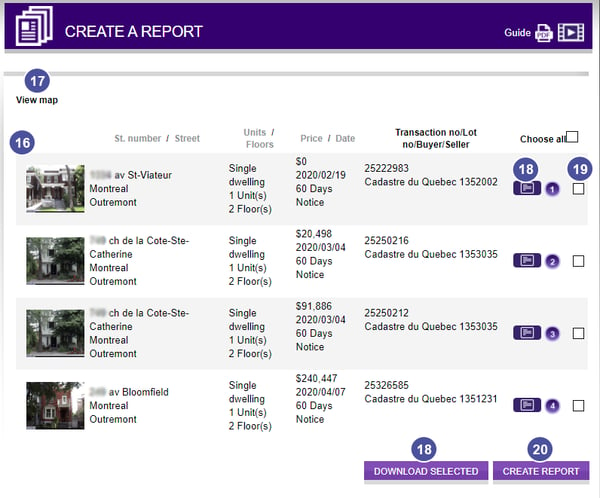 21. Your PDF report will then be automatically generated and you will be able to consult it immediately. A copy of your report will also be saved in your documents.